Hacklab's workplace is about 690 m² in size and is located in an old slaughterhouse building in Nekala.  It includes, for example, woodworking, metal, painting, sewing, electronics, and welding rooms.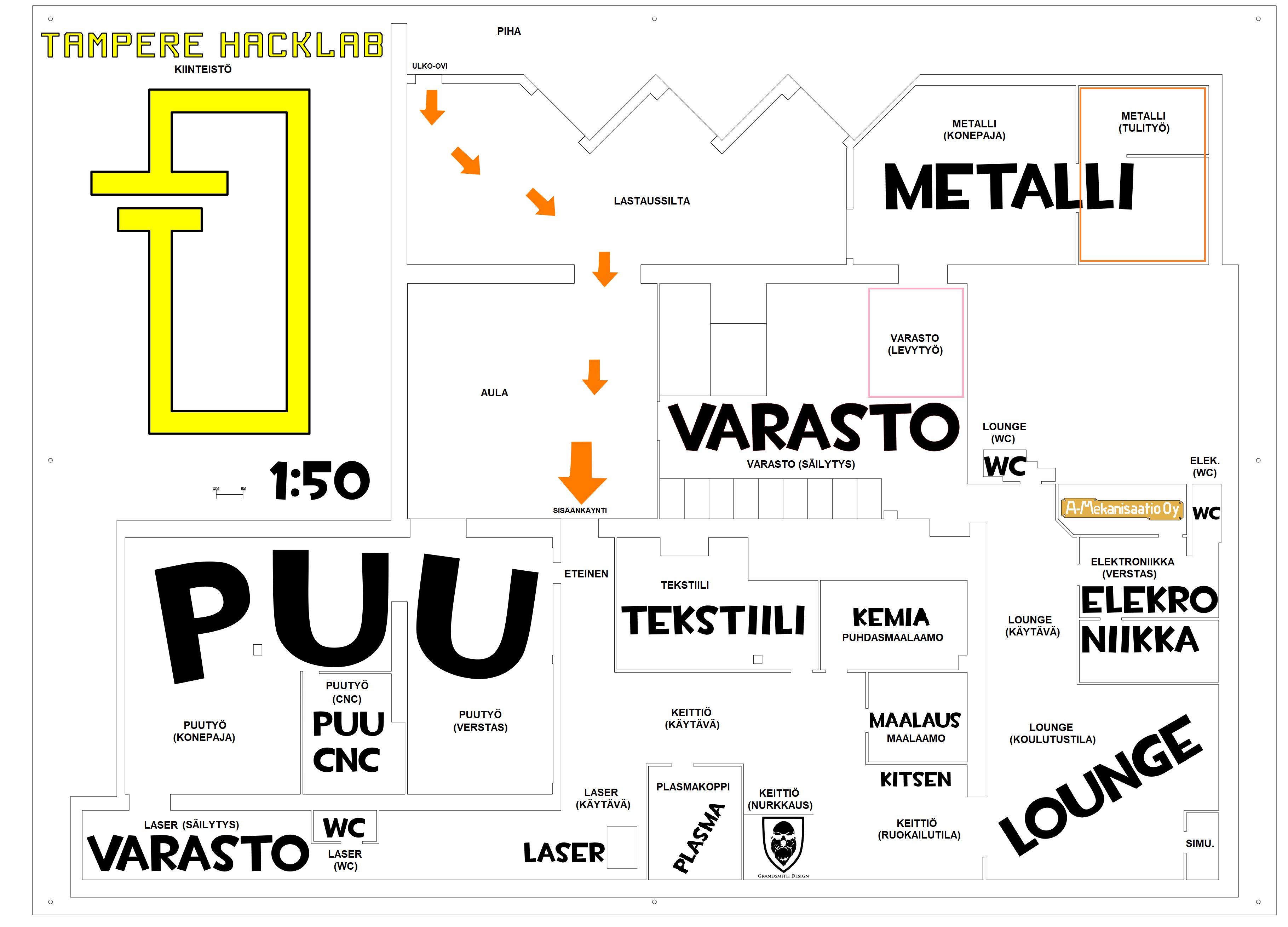 Equipment
An up-to-date list of the machines' status can be found at https://tampere.hacklab.fi/status/koneet/
Information about the status of the facility itself can be found at https://tampere.hacklab.fi/status/tilat/
The workspace includes, for example, the following machines and accessories:
| Machine | Description | State |
| --- | --- | --- |
| CNC laser cutter | Large, 1300 * 900mm machining CNC laser.   Cut smoothly with soft materials such as plywood and acrylic.   With smaller power, some can engrave patterns in the materials. | Functioning |
| Small CNC milling machine | Precise small CNC milling cutter 200x200x150mm who work on wood, plastic, carbon fiber, etc.   Also able to engrave printed circuit boards. | |
| Large CNC milling machine | Large and heavy CNC milling cutter with 1500 * 2500mm machining area.   Perfect for wood, plastics and softer materials. | Functioning |
| CNC Plasma Cutter | Large and heavy CNC plasma in a 1500 * 2400mm machining area.   Cut electrically conductive materials such as aluminum and steel. | Functioning |
| Prusa i3 mk2 3D printer | Modern high quality 3D printer, with heated surface and E3D V6 1.75mm hot-end. | Functioning |
| HP Designjet 4000 | Large format inkjet printer | Functioning |
| Vinyl Cutter | Summa D60R vinyl cutter | Functioning |
| Plotter | Large XY pencilplotter with A1 size paper.   Draw vectors with different pencils on paper.   Also cuts vinyl. | |
| Sandblasting Machine | A box about the size of a large cooler box. Has a nozzle which blasts sand and compressed air at high pressure. Can be used to clean things. | Functioning |
| Ultrasonic cleaner | Ultrasonic cleaner with about 20 liters capacity and a heater element. | Functioning |
| Heating oven | Oven, which warms up to 1000 degrees. Suitable for melting and other heating.  | |
| Welding equipment | Telwin MIG welding and 200A AC / DC TIG | Functioning |
| Metal lathe and timber | The workshop has a metal lathe with a center distance of 700 mm. The device can also be used to make threads, etc. On the wood side, there is a wood lathe that can be used to turn small pieces of wood. | Functioning |
| Ultimaker 3D Printer | A newer generation (hobby-oriented) 3D printer. Hothead updated and extruder tuned in 3mm | Archived |
---
Tools
Bandsaw, Pole Drill, Bench Grinder, Ribbon Grinder, Mouse Grinder, Table Grinder, Level / Jig Robot, Hot Glue Gun and other basic tools.
---
Electronic tools
soldering iron, multimeters, lab power sources, oscilloscope, signal generator, hot air blower, SMD infrared oven, hole plate and handheld components.
---
Lounge
A space for socializing and training use, with sofas, tables, videotape and AV hardware, library, and fridge.
There is also a little kitchen where you can cook your own food in a stove, oven and microwave.
---
Storage
Shelves for storing members' projects and storage boxes. On the storage side there is also the sanitary facilities.