Tampere Hacklab on yhteisöllinen työpaja, johon kuka tahansa voi liittyä jäseneksi. Hacklabiltä löydät työtilat ja työkalut kaikenlaiseen asioiden rakentamiseen, korjaamiseen ja paranteluun.
The Tampere Hacklab is a community workshop where anyone can become a member. At Hacklab, you will find workspaces and tools for building, repairing and improving all kinds of things.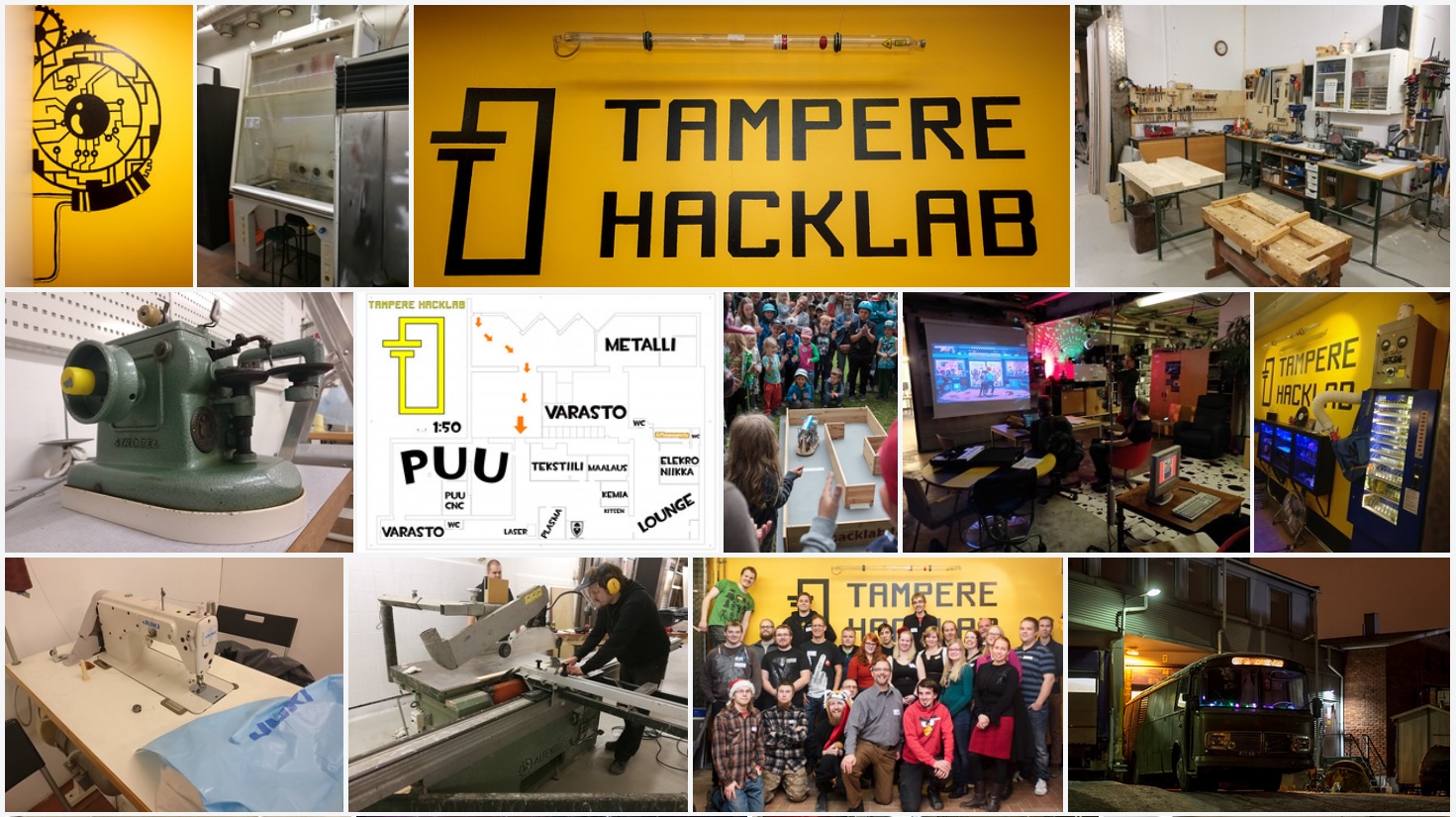 Jos et osaa jotain, Hacklab on hyvä paikka uusien taitojen opetteluun joko itsenäisesti tai järjestämillämme kursseilla. Kiinnosti sinua sitten 3D-tulostaminen, hitsaaminen tai ohjelmointi - kaikki onnistuu hacklabilla. Vain oma mielikuvituksesi on rajana.
If you don't know something, Hacklab is a good place to learn new skills either independently or with the courses that we organize. Whether you are interested in 3D printing, welding, or programming - everything is possible at Hacklab.  The only limit is your own imagination.
Lue lisää ja liity jäseneksi! join us!
Toveri Ville Valkonen (weezelding) järjestää tänä torstaina 6.2 klo 18.00 alkaen pajalla pienimuotoisen tmux -ikkunamanagerikoulutuksen. Tervetuloa paikalle.
Here's the first wireless charging The Other Half made at Tampere Hacklab. It has a custom 3D-printed case, Samsung S3 wireless receiver, and connectors made with copper tape and some thin wire. There were some issues in placing the wireless receiver. It did not work when placed in the center of the phone, possibly due to interference caused by battery. Placing it in the bottom half of the case solved the issue. This is the first prototype and improved versions will be made later.
Our friends at Jolla today released The Other Half developer kit. Tampere Hacklab 5w got an exclusive pre-release version of the Jolla TOH 3D-model in the end of December. The model is the exact CAD model from which the TOH's are built from. As the first step we decided to print it without any modifications with our Ultimaker 3D printer. The package contains also a 3D model of the phone's back side which can be useful while designing new hardware. The 3D models are released in .stl and .stp formats.
Tämän vuoden merkittävimpiä projekteja on ehkä ollut naapurikopin työstökoneiden käyttöönotto ja opettelu. Jo heti alkuvuodesta saatiin laserleikkurilla leikattua ensimmäiset palaset ja hyvin pian havaittiin, että ohjausjärjestelmä kannattaa tehdä uusiksi. Kiinalaisen moshidraw:n tilalle linuxcnc ja pieniä elektroniikkamuutoksia kytkentöihin mahdollistivat laitteen järkevämmän käytön. Samalla saatiin myös parannettua turvallisuutta kytkemällä muutama turvakytkin.